Aster Aweke
Aster Aweke was born in 1961 in Gonder, Ethiopia and launched her professional singing career at Hager Fikir Theater. In the late 1970s, she began performing at Addis Ababa night clubs, cultivating her songwriting and singing technique and emulating Aretha Franklin, Donna Summer and other Western vocalists whose records were popular in the local discos. She performed at various clubs and hotels, including Hotel D'Afrique, Wabi Shebelle and Ras Hotel, accompanied by the Continental Band, Shebele Band, and Ibex Band (before they became known as the Roha Band).
Aster began her recording career in Ethiopia with two 45 vinyl record releases, followed by nine cassette releases. Her last cassette, Munayë, was released in 1981, coinciding with her departure from Addis Ababa to the United States. This recording cemented her status as an enduring musical tastemaker among music lovers in Ethiopia.
Upon arriving in the United States, Aster first settled in northern California, later relocating to the Washington D.C. area – home to the largest Ethiopian community in the United States. There, she began singing in various Ethiopian restaurants. In the late 1980s, Aster was discovered by the London-based independent label, Triple Earth, an event that marked her entrance into the World Music scene. Shortly thereafter, she secured a recording contract with Sony Music Entertainment and released two major albums, Aster and Kabu, on their Columbia label.
Ethiopian Legendary Singer Tilahun Gessesse

Tilahun Gessesse (Amharic: ጥላሁን ገሠሠ) (also spelled Telahun Gesesse or Tlahoun Gèssèssè) (September 29, 1940-April 19, 2009) was an Ethiopian singer regarded as one of the most popular of his country's "Golden Age" in the 1960s. During the 1960s he became famous throughout the country, nicknamed "The Voice". He raised money for aid during the famines of the 1970s and 1980s and earned the affection of the nation, being awarded a doctorate degree by the University of Addis Ababa and also winning a lifetime achievement award from the Ethiopian Fine Art and Mass Media Prize Trust.
In his later years he suffered from diabetes. He died on 19 April 2009 in Addis Adaba shortly after returning from America. Tilahun was honoured with a state funeral attended by tens of thousands of his fellow citizens.
Ethiopia Habtemariam: The New Boss at Motown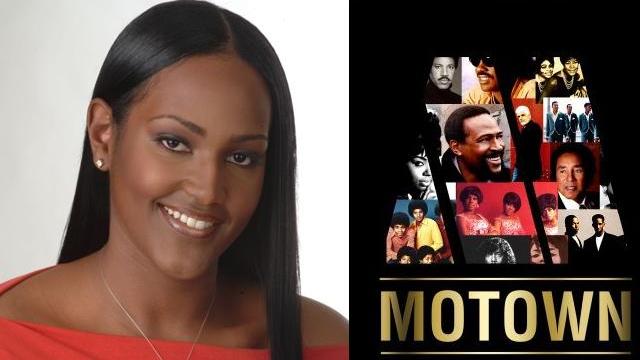 Ethiopia Habtemariam (left) has been promoted to senior VP of the storied Motown Records label.
New York
(
Tadias
) – A young Ethiopian American music executive has been appointed as the new head of the legendary Motown label now owned by the Universal Music Group.The company has named Ethiopia Habtemariam, 31, senior vice president of Universal Motown Records. Ms. Habtemariam will also serve as Executive Vice President and head of Urban Music for Universal Music Publishing Group.The promotion will make Ms. Habtemariam one of the most prominent women, as well as one of the most influential blacks in the music idustry. She follows in the footsteps of Sylvia Rhone, one of the most powerful women in the field and the first black woman to lead a major record company.Ms. Habtemariam, who began her career as an intern at
LaFace Records
in the 90s, is credited for signing publishing deals for artists such as Justin Beiber, Ciara, Polow Da Don, Chris Brown and Ludacris.According to
The New York Times
: "The label was careful not to name Ms. Habtemariam as the new president of Motown, but she will have the top position at the label and will report directly to Barry Weiss, Universal's top executive in New York. It is expected that if she is successful in the new job, she will most likely be promoted."
"Ethiopia represents the new breed of today's best creative music executives," Mr. Weiss said in a statement. "There is no one more relevant and credible in the creative community to help us build upon Motown's fantastic legacy and move the company into its next groundbreaking era."
Ms. Habtemariam said she was honored to accept the appointment: "It is an extraordinary opportunity to call Motown home," she said in a statement. "And I am grateful to Barry for giving me the honor and challenge to put a new creative stamp on a label that has such a rich history."
She added: "I am truly excited to work at the label that cultivated the musicians who have inspired me over the years. Motown artists created the soundtrack to my life, and I can't wait to develop acts that not only have cross-genre and cross-generational appeal, but can reach worldwide notoriety."
We congratulate Ethiopia Habtemariam on her accomplishments.
Ethiopain Artist Helen Brehe-LEBE
BY: TIBEBESELASSIE TIGABU
Many remember Chachi Tadesse with her unique style and her song: Ere shegaw simih manew. Though she spent a great deal of her time with her music, she has been away from the scene. But she says it is because of different personal engagements. "Music is in me. How can I quit that?" Chachi asks.
Preparing to release a new album entitled "Proud to be an African," she recently finished a video clip for one of her songs which will be screened during the anniversary of the African Union, on March 25, next month.
Apart from this project she is involved in Chachi International Art Management plc and her non-profit organization Hohete Tesfa that takes a great deal of her time. She is also a mother of four children, two of them adopted and especially she is deeply involved with her seven-year-old daughter's life: Cleopatra.
On weekdays, she reads about powerful women, businesswomen so that this can guide her on what to do and also to understand life and what she is facing. Even though she has a lot of engagements, she is highly involved in house chores.
Morning:
Be it on weekdays or weekends, I am usually up by 6:30 in the morning. On weekdays, I take my time preparing lunch boxes for my daughter. Since there is no class on Saturdays, we eat breakfast, preferably simple, cereal food with milk and juice; no heavy meal. In the mornings, I watch different news channels; but I do not like to waste my time by gazing on the TV.
Before heading to teach my morning Yoga Class in Laphto Center I take my time to meditate and pray to start the day in a very peaceful way. The class is for one hour and by 9:30 I will be done for today's class. After that I work out on the treadmill or do some heavy exercises, which might take more than two hours. After the long exercise, I relax myself by taking a sauna bath.
Afternoon and Evening:
We usually avoid heavy meals and prefer having a lot of vegetables and fruits. On Saturdays we break that rule and go out to have a pizza or burger. This is a family time and we usually head to Sishu Restaurant off Churchill Avenue around the National Theater.  We spend the afternoons together or sometimes I go and visit my mother. For the past 25 years, I have been in the music business. You can imagine how the nightlife and going out was a routine for me. Now I have a lot of responsibility. So I head home early if there are no receptions or events that I should attend to. Even on those occasions I do not stay out late. Dinner is a home thing and we eat very simple things like salad. We also love shiro. So there are times where I make shiro. During the evenings, I sit and watch different cartoons with my daughter. There might be also a time when we discuss the Bible. I am not surely a religious person but I am a spiritual one.
If she is asleep I try to watch films of my own romance and drama genres. I do not like films with sad endings, suspense and others of that type. Music will always be part of my life. So I listen to my musical collection of Blues and Jazz.
Before heading to sleep I take a very extended bath that helps me to relax and after one hour or so I head to sleep thinking about Sunday's home day.
The Hottest Spot in Addis Ababa is located in Arada Sefer
Yehdego Abeselom, a.k.a. Bobby, the manager of Jolly Bar & Grill (top), with the "Last Supper," depicting various, musicians, athletes, rulers, and intellectuals featuring in Ethiopia's history or pop culture.
By: Addis Fotune
Jolly Bar & Grill, formerly a landmark in Arada, located by the Victory monument in Arat Kilo, reopened, on  Friday, December 17, 2010, after a hiatus of almost three years, during which it was closed for renovations.
Originally opened in 1959, Jolly was a bar, with Solomon Bakery next door, owned by Abeselom Yehdego. It stopped serving alcohol in the 1980s, and it remained a café serving tea, coffee, and cakes.
"It was a regular meeting place for a group of people at the university when I was a student, and we used to have coffee there and talk and talk," a former customer of the bar told Fortune. "Very few people used to drink beer 45 years ago."
He could not remember much else about the place that has undergone quite a facelift over the past three years.
"The renovation was complicated to do," Yehdego Abeselom, a.k.a. Bobby, 31, the son of Abeselom and manager of Jolly, told Fortune. "It took two years, and I had them redo it many times until I was happy with the way the place looked."
The venue has been expanded to encompass both the former café and bakery and has two outside areas; in the front and to the side of the section geared to become a café in future.
"We are starting like this, and at the moment are only open for dinner," said Will Morkunas, executive chef. "I am hoping that we will be ready to start serving lunch right after New Year."
This will eventually expand to include serving breakfast, pastries, and offer catering services, according to the US chef who purportedly gave up a job on the Hollywood strip to be a part of the project.
"I hired Will because of both his great food and his personality," Bobby told Fortune. "He is not just a chef, but also a social butterfly. I want to teach people here different aspects of the industry, and he is someone who can whip them into quality."
In homage to this, the one wall of the open kitchen, where the chefs can be seen preparing the food wearing white chef jackets and caps, dons a picture of the bossy head chef from the movie, "Ratatouille," about the Parisian rat that could cook.
Will had complete carte blanche in creating the menu, a work in progress that the cheff planned to change every week.
"It includes things I like to cook, and favourites from previous menus," he said. "There are limitations regarding available ingredients here, but we use mostly locally produced organic food. Very few items, like vinegar, oil, seafood, and fish are imported."
He likes local food, and has some fusion dishes, which he plans to expand, such as fried injera (which crisps very well, according to the chef) with guacamole, an avocado based dip which originated in Mexico.
For now, the menu is divided into four sections, each a course to a four-course meal, and the dishes remain more on the traditional side, including American favourites like mashed potatoes and hamburgers.
The first course features Salad of the Caesar (65 Br) and seasonal (45 Br) varieties. It includes mostly bitter green leaves a bit too big to be bite sized, shaved root vegetables like the crisp and sweet radish and carrot, with the usual suspects tomato and cucumber, served with the tangy, sweet vinegary house dressing.
For the second course, choose between French onion soup (75 Br) or mini crab cakes (120 Br). The main course offerings include four hearty options: Chicken breast, served with potatoes and cabbage (150 Br); parpardelle (large, broad, flat, and thick noodles), served with vegetables and parmesan cheese (120 Br); as well as steak, zucchini (a popularly cultivated summer squash), onion rings, and mashed potatoes (180 Br).
The Jolly Burger (65 Br) comprises a thick beef burger patty with melted cheese serves on the one toasted half of a bun with the tomato, onions, and sauce on the other half. Add extra cheese (7.30 Br), vegetables (4.50 Br), or meat (9.50 Br). It is big enough to make eating with one's hands awkward, an act that seems out of place in the establishment anyway.
The chef's tasting menu  (having one dish from each course for 320 Br) and chef's choice (simply ordering one's meat preference and "be surprised" for 250 Br) are in line with the new approach and complete rebranding targeting an upmarket crowd.
"Before, when my father gave the management over to a relative, he said, 'Do what you want, but do not sell alcohol,'" Bobby, who studied film and business in the US, recounted. "Eventually it was in shambles, and I thought, 'We have to resurrect this place.'"
The concierge at the entrance attests to this change, as does the American pop background music.
"I made a big investment," said Bobby, who declined to disclose the total amount. "We wanted to make a big comeback. It cost a pretty penny."
It appears as if hardly any expense was spared in the renovations. The decorative pillars sport black and white photographs from olden days, when Arada was just developing. More walls are decorated with old LPs framed with the disc and cover of artists like Madonna, Michael Jackson, and the Rolling Stones.
Even the water closets, to which access is gained through saloon-like swinging doors, are beautiful with modern glass basins standing up on the counters and shiny, large wood framed mirrors. Like the cartoon chef hung in the kitchen, the bathroom likewise has a joke or two, donning a sign above the toilet of acceptable positions in which to use said apparatus.
The bar top features pictures of female pole dancers in silhouette with coloured backlights, and under the counter are convenient hooks to hang one's bag on. Not a bad posse in which to enjoy the cocktails, totalling 21, and ranging between 95 Br and 38 Br apiece.
"We want to be known for making the best cocktails in town," Bobby said.
Despite his father ceasing to serve alcohol in the 1980s, when he saw the new restaurant, he said, "You have climbed Mount Everest," according to Bobby.
While Jolly may not yet have reached the summit, it appears to be aiming that high, and it has other innovations installed. For instance, there is no cashier, and every waiter uses the software for the billing herself.
Service also seems to be a big concern and when a waiter dropped something, two others literally ran to immediately clean it up. The tables are fully laid with wine and water glasses, forks, knives and spoons, as well as cloth serviettes folded in the shape of a boat. Little lamps on the tables mirror the light in the fake fireplace, above which Christmas stockings are hung to add some holiday cheer, in addition to the appearance of warmth.
As hardly any celebration can be complete without dessert, on offer are sorbet in orange, guava, grapefruit-champagne, or mango flavours (60 Br); strawberry semifreddo, which means "half cold" in Italian and is a class of semi frozen desserts, like ice-cream cakes, custards, and certain fruit tarts with the texture of frozen mousse (70 Br); or Grand Marnier (a liqueur made from a blend of true cognacs and distilled essence of bitter orange) scented chocolate tartlets (85 Br).
It is pricey, on top of which a 10pc service charge, and 15pc VAT is added. A soft drink costs 12 Br and a local beer 30 Br.
This is the new Jolly, but the manager did not do away with the old completely. He had a painting commissioned, copy of Leonardo da Vinci's "Last Supper," featuring what Bobby calls great figures in Ethiopian history seated in Jolly. It includes Emperor Haile Selassie, Haile Gebrselassie, Teddy Afro, Aster Aweke Aweke, Mulatu Astatke, Bob Marley, and two philosophers having cake and tea.
By contrast, Jolly is far from serving its last supper; it is only just beginning.
You know you're 100% Habesha if:

You have at least 10 relatives in D.C.
A party starts at 3 and everyone shows up at 6
You make eye contact and nod your  head if you see another habesha on the street
Your mom is in the kitchen for 10 hours & still is not done cooking.
Your freezer is stuffed with kebay, berbere, and used up oil
You, your father, and your mother have three different last names
You are familiar with the expression "Waaa" and its various functions, which can be used to express a warning, excitement, anger, sadness, etc
Your mother and her friends call each other every day to update each other on gossips
Your parents always make you take pictures by flowers or beautiful things to send to Ethiopia
Your parents want to call your name but they call all your siblings first before they finally get it right
Whenever you or parents see something disturbing you mumble "Ayyyyyeee America"
You pronounce your last name 20 times for people and they still don't get it right
Your parents tell you that the only REAL careers are Doctor or Pharmacist
You recognize a simple family gathering to be more than 50 people you don't recognize
You know at least 7 people who drive a taxi
Kibae is essential for both your hair and food
You have at least 1 relative living in America Illegally
You show up to school/work, smelling like "WOT"
Your parents say things like "what did he said" or "what did he did"
If your parents say: "shat up your mouz"
You have never heard your parents say .."I love You".. to each other
You are forced to eat more injera even though you have already had 2 plates
Your parents are positively sure you will marry Habesha, and will have it no other way
Its forbidden to get anything lower than A on your report card, maybe a B, but a C is out of the question
You always try to get a discount at a store even if the item is on SALE
Your parents tell you how everything is better here than back home like water, food ,etc.
Your papers say your 5 years younger than you actually are
You listen to the same Ethiopian tape everyday for 6 months straight and still don't know the words
You or your parents fight over who gets to pay the bill
At every wedding it looks like all the  women have ROBBED a jewelry store
Everybody back home thinks that you are RICH
Your parents have an old black and white portrait hanging on the wall in which they DO NOT look directly at the camera
Bob Marley is pronounced "Bom Barley"
You hear good news and you hear people say: "elelelelelelelelelelelele"
You pronounce "brother" as "brazer"
You or your parents say you're going back home every year and never go
You have family who've been in the states since the 70′s, and they still have an accent and don't know how to use a computer
The men are always in the living room talking about politics, and the women are in the kitchen gossiping

An Ethiopian Love: A new movie by Yonie Solomo
\
Cultural pride is and will always be on trend, but even more it's what's right. Removing the typical Hollywood standards, such as an over-the-top urban character or ghetto baby mamas, Yonie Solomon decided to construct an indie, classic love story, An Ethiopian Love, that salutes his heritage and has a universal relativity. Starring as the lead character, Desta, Yonie plays alongside rising on-screen talent Helen Gedlu, Augisha Tesfasilase, Sara Gebremedhin, Jonathan Woldaub and Syed Bukhari. From the trailer alone, this romantic comedy seems loaded with good-hearted humor, relationship drama and depth. While building great content on the back of guerilla marketing, rehearsals and the like was no easy task, Solomon was determined to send a message. Sure, the Ethiopian community will be able to directly identify with the film, but all first generation persons or immigrants of this country will see themselves in this feature that tips its hat to self-identity.
The cast is set to kickoff a screening tour in late April or early May, hitting major cities in the U.S. and several college campuses. Naturally, the international audience will get a chance to view it as well. VV tapped Solomon and Gedlu–both first generation Ethiopian Americans–for an exclusive chat about pride, the film's exploration of love and how they incorporated style to get the message across. -Niki McGloster
What are the top common misconceptions about Ethiopia?
Helen: What they show on TV, kind of making it seem like everyone in Africa is just poor and starving. That's [only] part of it. They just make us look horrible on TV. It's frustrating because it's like, wow, it's not like that everywhere. I don't know why they do it.
Yonie: That's a huge one, in terms of being Ethiopian and living in America. It was crazy because that was one of the reasons why I wanted to do the movie. There's a central theme surrounding African immigrants, and that is that they come from this savage country, where ever they're from, be it Ethiopia or West Africa or where ever, and that Africa, as a whole continent, has nothing to offer. It's crazy because I didn't go there until I was 12 [years old], so I was exposed to the same things growing up in society. I shared those same views, whether they were subconscious or conscious, even with my parents in my ear saying [Ethiopia] is beautiful. So that's the biggest one, by far. You mention Ethiopia, and it's synonymous with starvation and political conflict. Not to say there isn't trouble there, but if you look at the numbers, it's like 80 million people in Ethiopia at this point, four million suffering from famine. It's not something I'm trying to neglect putting out this type of movie, but what I'm trying to do is primarily empower Ethiopians, as well as abroad, in addition to kind of show a different side of Ethiopia to the world.
What was the reason for targeting love and relationships in this film?
Yonie: I moved to L.A. in '05 to become an actor. Initially, I was there to do what everybody does in L.A.: get an agent and audition. I'm too impatient; I had to do something, so I started to dip my hands in different areas. Basically, I started creating projects. I work in the music video industry, and I was doing a lot of projects that were being deemed as urban because that's what I was labeled as in L.A. and growing up in America. It wasn't until I kind of looked into my own community to see that there's an audience there, a demographic that's untapped, that basically nobody's catering to. I know that love stories kind of rule everything, whether it be Titanic or Avatar. It's always love stories at the center of those. That's where the love angle came from–just being able to be universal. Living in L.A. and seeing how the industry works, and realizing how to capitalize the most on something that's untapped.
Helen, tell me how you got on board with this project.
Helen: Me and Yonie have known each other for a long time, since we were kids. I used to go to church with him, and his mom would teach at our church and stuff like that. I was out in L.A. dancing professionally, and he knew that I wanted to get into other things as far as acting, singing and all those types of things. He asked me to be a part of it, and I jumped on board. I think it's dope. I support it 100 percent. I'm Ethiopian, so I would love to be a positive face for the Ethiopian community.
For people that don't know, or for people who haven't seen the trailer, what are your roles in your characters in this film?
Yonie: My character's name is Desta, and he's a first generation Ethiopian American, as are the other people in the movie. He's going through trials and tribulations of being a young 23-year-old college graduate in a relationship, and the movie explores the relationships between his friends, his girlfriend and all that. But, he's kind of a square, and I say that in regards to kind of how the market value is of urban characters in movies. In white movies, there are always normal, regular characters. Adam Sandler's a regular character in a lot of his movies, and Matt Damon. Any of these romantic comedies, there are regular characters. A lot of times you have the "urban" characters being extra, where the latin dude is broke or the black dude is a player. You know, it's always extras that go along with those guys. So in this movie, he's a very central character that a lot of people can relate to. They watch the movie through his eyes. He's kind of neutral to a certain extent.
Ethiopian Super Star Teddy Afro
By: Addis Zefen
His real name is Tewodros Kassahun. Teddy Afro is an Ethiopian music sensation and one of the most successful singers and song writers from Ethiopia in recent times. Teddy's musical success has been credited to the powerful messages conveyed through his songs. From compassion to courage and from forgiveness to love, Teddy has been able to break artistic boundaries that were previously untouched. He has been compared to Jamaican reggae legend Bob Marley, in part because of his ability to bring a political, spiritual, and rhythmic presence to his listeners. Teddy is also noted for his work with other young and inspiring artists throughout Ethiopia. In 2001 Teddy Afro stepped into the limelight. What Teddy has become since is something beyond what he would have ever contemplated for himself.
Teddy Afro was born on 14 July 1976 to parents of artistic talent and fame. While his mother, Tilaye Arage, was well known in Ethiopia for her professional dancing, his late father, Kassahun Germamo, was a renowned and highly regarded Ethiopian songwriter. As stated by Teddy Afro himself in his tribute song to his late father called Music – My Life, Teddy's father always resisted the idea of his son becoming a musician. However, Teddy trusted his own instincts and evolved into the single most popular pop-star Ethiopia has produced. Not only is he a vocalist that countless Ethiopians have come to adore, he also writes his own meaningful lyrics.
Teddy Afro's father did not live long enough see the effects of his son's music on the lives of Ethiopians all over the world. But Teddy tells his deceased father in Music – My Life, "that he will continue to exist through the artistic works of his son." He continues, "that his life is intrinsically intertwined with music and that he cannot live outside of it."
Ethiopian born singer Wayna Wondwossen garners Grammy nomination
By: H. Asrat
Ethiopian born singer Wayna Wondwossen has been nominated for a Grammy Award for her song "Loving You," a tribute to the ups and downs of the business through the eyes of an independent recording artist.
This marks the first time the prestigious Grammy Awards Committee nominated two Ethiopian Americans under the category of Best Urban/Alternative Performance. Wayna is nominated alongside Kenna, a fellow Ethiopian musician.
"I am thrilled that Kenna and I are nominated in the same year. I hope it sends a message to young Ethiopians that there is no goal beyond our reach."
Wayna grew up in the suburbs of Washington DC, raised by her mother Tidenekialesh Emagnu, who she pays tribute to in her song Mama's Sacrifice, from her first album "Moments of Clarity."
"I couldn't have had a better role model for perserverence and strength," Wayna says. "She has a lot to do with why I work so hard and stay faithful to my dreams."
Her life in Washington DC exposed her to the problems facing immigrant communities. In her song "Home" from the album Higher Ground, Wayna includes a verse about a woman who left home "and a sense of belonging" for the prospect of better economic opportunity.
"So many Ethiopians deeply miss and love their homeland. No matter how acclaimated they've become abroad, they feel an aching for that place where they're completely understood, without effort or explaination. The song, "Home," is a testament to them and to that longing, which is something I think any person or culture can relate to."
Recently, Wayna released her music video for "My Love," a song that tells the story of a woman trapped in a relationship with an abusive husband. The video features fellow Ethiopian musician B Sheba and Tsdale Worku, who performs as Wayna's mother.
"She plays the role of the elder woman who figures out what kind of situation I'm in and helps. She does it very well, she's an amazing actress," said Wayna.
"I insisted that the music video feature elements of Ethiopia. I wanted my mother to wear traditional dress and for the dinner scene to feature Ethiopian food. I wanted to showcase our culture for others to enjoy and to represent who I am."
Promoter Yodit Gebreyes is Talk of DC…
BY : Mia Fields-Hall
How did you get your start in D.C. nightlife? I started out as an undergraduate at George Mason being extremely involved in student life. I was very social and I loved informing people of different events happening on campus. Many of D.C.'s top promoters at the time frequented our campus and got to know me. A few of them invited me to promote for them if I could bring a lot of people out and they paid me, of course. Being a promoter was a great opportunity for a college student and I've loved it ever since.
Q: The urban nightlife scene has changed in the last decade since nightclub leaders Marc Barnes and Taz Wube were running things. Has it changed for the better?
A: I think it's definitely changing, perhaps not as fast as we'd like it to, but it is. In those days, D.C. concentrated on two things: big clubs and specified nights. It's not like that anymore. People don't like major crowds, mass marketing and nights that exclude groups anymore.
Q: How does D.C. differ from other nightlife scenes like Miami and New York?
A:  It's very different in that D.C. is way more reserved than most cities and actually becoming slowly but surely more diversified.
Q: Many people say there's two D.C.s when it comes to partying. Why do you think that is?
A:I think it has a lot to do with how the party is promoted, the DJ you use — everything matters. If you don't promote to a diversified crowd, you won't get one. I think nightlife here can change if we just all make more effort.
Q: How do you personally hope to change nightlife for the better?
A: I hope to actually encourage more women to be involved. There are only a few top women promoters in D.C. It's quite sad actually.
Q: Do you get treated differently when you approach venues to host parties?
A: Of course, especially in the beginning when club owners or managers didn't know me. Since I am a woman, they'd look at me and say, "You want to throw a party?" while looking at me strangely. They'd assume that I was there to be a hostess or serve cocktails. You have to be very strong-willed in this industry and always keep it professional.
Q:You're the co-owner and founder of one of the biggest promotional groups in D.C. as well as a full time graduate student. How do you balance it all?
A: Over the years, I've learned to say no. I can't be at every party, every event and running every single show. When you learn how to be a team player as well as a leader everything else falls into place.