Ethiopian Sport Hero and Legend Abebe Bikila
Abebe Bikila was exceptionally talented at the marathon, winning two gold medals, setting world records, in the process heralding a new era in marathon running, one in which speed was the key to victory, rather than raw strength and endurance. More than three decades after his running career ended, Bikila is widely recognized as the greatest marathoner of all-time.
Abebe Bikila was born in 1932 in a town called Jato, outside of Addis Ababa. According to tradition, he spent most of his childhood as a shepherd and a student. In 1952, young Abebe was hired by the Imperial Body Guard. In 1954, he married W/t Yewibdar W/Giorghis with whom he had four children.
Bikila spent a number of years with the Imperial Guard before he distinguished himself as an athlete. His defining moment came when he was watching a parade of Ethiopian athletes who had participated in the Melbourne Olympics. Looking at the athletes who were wearing a uniform with names written on the back, he asked who they were. When told that they were athletes who represented Ethiopia in the Olympics, he was determined to be one of them.
In 1956, at the age of 24, he participated in the national armed forces championships. 
The hero of the time was Wami Biratu, who held the national records in 5,000 and 10,000 meters. During the marathon, the crowd at the stadium was waiting, expecting to see Biratu win the race. In the first few miles, Wami was leading. After a while, radio broadcasters informed the crowd that a young unknown athlete by the name of Abebe was leading. As Bikila was extending his lead, the crowd waited anxiously to see this new sensation. Bikila easily won his first major race and later on went to break the 5,000 and 10,000 meter records held by Wami. With those impressive results, he qualified for the Rome Olympics.
Finally, Bikila's dream of wearing that outfit with Ethiopia's name written on the back was realized. Abebe's race in the Rome Olympics established him as a running legend. Not only did he win the race, he also set a new world record of 2:16:02, running on the cobblestone streets of Rome without shoes. He was also the first African to win an Olympic medal. Commenting on why he had run on bare feet, Abebe said, "I wanted the world to know that my country Ethiopia has always won with determination and heroism."
Bikila came to Boston in 1963, the heavy favorite to take the historic marathon. But cold winds blowing in off the ocean in the late miles felled the great Ethiopian, and he settled for fifth place in a pedestrian 2:24. At the Tokyo Olympics a year later, Bikila's fame had reached all corners of the globe. Despite the Boston debacle, he was favored to win the Olympic Marathon yet again. Six weeks before the marathon however, Bikila was taken ill with Appendicitis. He underwent surgery amid a public outcry for a proper medical treatment. The day he arrived in Tokyo, he hadn't fully recovered from the surgery and limped down stairs. However, the reception Abebe received from the Japanese people helped him recover quickly and unexpectedly. Along with teammates Mamo Wolde and Demssie Wolde, Bikila resumed his regular training a few days after his arrival in Tokyo. The marathon, particularly the way Abebe won it barely six weeks after his surgery, was astonishing. This time he wore shoes, but still won the race easily. And the gymnastic display he showed right after finishing the race is now a classic image engraved in the minds of hundreds of millions of people. This was also the first time ever that the Olympic marathon race was won consecutively by the same athlete. The new world record of 2:12:11 that Abebe set was icing on a cake for this remarkable race. Bikila trained hard for the Mexico City Olympics of 1968. Unfortunately, he had to withdraw from the race after 15 kilometers. His compatriot, Mamo Wolde would later finish the race victoriously. Bikila competed in more than 26 major marathon races in his illustrious athletic career.
The world championships he won in 1960 and 1962 deserve special recognition. In 1968, The legendary Bikila was involved in a car accident in the city of Sheno near Addis Ababa that left him paralyzed below the waist. Over the next several months, he was treated both in Ethiopia and abroad. Even while in a wheelchair, Abebe's competitive spirit and helped him compete and win several races. In 1970, he participated in a 25 Km cross-country competition in Norway where he won the gold medal. The illustrious life of the legendary Abebe Bikila came to a tragic end in October of 1973 when he finally succumbed to a disease he had battled for many months. This eternal Ethiopian hero was buried in the grounds of the St. Joseph church in the presence of a huge crowd and the then emperor, Atse Haile Selassie. His life was over, but the memories remained. Bikila ushered in a new era in marathon running – and he made it look easy.
Dallas 2012: Fresh Start for ESFNA, Hopes to Reunite After Dispute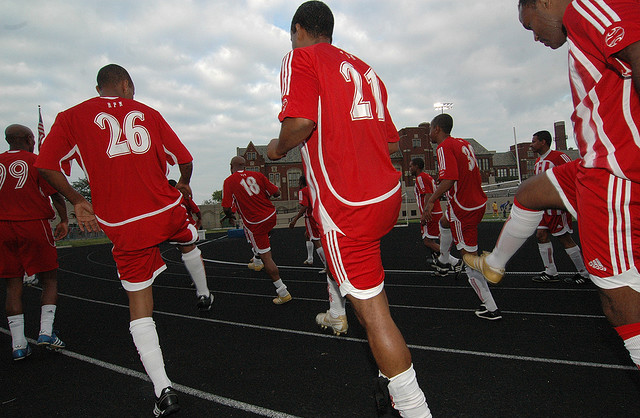 ESFNA has announced that the 2012 Ethiopian Soccer Tournament will be held in Dallas, Texas. (Photo: Chicago 2009 / Tadias File)
 By Jason Jett
After near dissolution, the 28 year-old non-profit, Ethiopian Sports Federation in North America (ESFNA), recently held elections for new leadership. The organization was steeped in disputes for the past 15 months prior to the current resolution.
On December 11th a newly elected board announced that the organization's annual summer soccer tournament and cultural festival would be held in Dallas, and noted that the upcoming guest of honor will be a sports figure from Ethiopia.
ESFNA's executive board decision to rescind an invitation to former Ethiopian Judge  and opposition leader, Birtukan Mideksa, in October 2010 initiated the disputes. Judge Mideksa had been chosen by the ESFNA board as a guest of honor for its July 2011 event, but internal strife ensued over whether the invitation was appropriate or not. The controversy escalated as resignations followed amid public criticism, including accusations of corruption and malfeasance.  Ultimately an invitation was extended to Judge Mideksa and the tournament went on as scheduled in Atlanta albeit under a cloud of threats of boycott by several groups as well as calls for new elections.
"As most that follow ESFNA know, 2011 was a difficult year for the organization because of some decisions that it took or did not take during and following its annual October meeting in 2010 regarding a guest-of-honor selection," read an official statement from the organization. "All in attendance knew this was a special meeting where all differences were going to be placed on the table and discussed so that the organization could identify mistakes it committed, learn from its mistakes and place safeguards not to repeat it. It was understood that after the discussion we will be united, and go forward even stronger than before."
The tournament, and the ESFNA itself, was salvaged during a three-day meeting of the organization's board in Northern Virginia. The board elected Getachew Tesfaye of the St. Michael football club in Maryland as the new president of ESFNA, and likewise installed a new treasurer and business manager.
"There have been questions about our political views," Tesfaye said when the tournament-site selection was announced after months of delay. "This is a soccer federation. We do not discriminate based on political party, religion or tribe. If you serve the interests of Ethiopia, you are welcome to our tournament."
Dallas was selected as the 2012 host over Seattle, Las Vegas and Denver, which also submitted bids to host the event. The new president told Tadias Magazine that Denver's hosting proposal was nearly as persuasive as the one selected, but a down economy influenced the decision to return to Dallas a fourth time.
"We have not held a tournament in Denver yet, and did not want to take a chance amid the current financial situation," he explained. "All tournaments held in Dallas have been well-attended by the Ethiopian community. Also it is central, and many teams and people can drive to Dallas. We took all that into consideration."
Also in acknowledgement of the weak economy, the 2012 venue — a stadium in Addison, a suburb of Dallas — is significantly smaller than the 2011 site, the Georgia Dome in Atlanta.
Regarding the guest of honor, Tesfaye said two prominent sports figures are being considered and an announcement is expected early in the new year.
Yohannes Berhanu, the new Public Relations Officer of  ESFNA, said there is hope that internal divisions are now laid to rest, and that the organization will be viewed as a sports and cultural entity moving forward.
"The ESFNA was never into politics," he said, while acknowledging the appearance of influence by big money. "The problem is interest groups or sponsors give some tendencies that goes this way or that way —  like the big donors, or when we rally against what happens in Ethiopia."
"In Atlanta there was a tribute to people who had been massacred," he said.  "That was human rights, something any human would do. We were with the people, but not on any side. We are not political, we have to accommodate everyone."
Addressing guest-of-honor selections, Berhanu added, " It could be anybody who does something big, like donate $240,000 [Sheikh Al Amoudi, who has donated to ESFNA, was a 2002 tournament guest of honor] or Judge Birtukan Mideksa. We wanted to recognize her for standing up for herself."
"We are all Ethiopians. We came here and started the federation with four teams, and now there are 29 teams. People with political ties want to bring their own identity and go forward with that. That has nothing to do with ESFNA."
The sport federation was formed in 1984, and the first annual tournament was held that year in Houston. Berhanu likened the federation's inclusiveness to that of community groups.
"When they started this thing, they never thought it was going to become this big,"  Berhanu said. "But wherever Ethiopians are, they love the sport, culture and getting together." He added: Like a church or a community organization, we open our doors to everybody. Everybody comes with their own agenda."
Of the athletes, he noted some are former members of the Ethiopian national team and are well-known and highly regarded.
"They are known not only for what they do in the soccer field, but in bringing people's spirits up," he said. "They are like Haile Gebrselassie. The players do a lot for us. People feel homesick, and the players are getting them together and giving them sports. It keeps them going."
"We should be all working for the same goal," continued Berhanu. "We have a country that needs our help and a community which needs our support. Otherwise, we will not grow as quickly as other communities."
Kenenisa Bekele among 35 Ethiopian athletes suspended
Ethiopia's Kenenisa Bekele, has been suspended by his governing body. The Olympic 5,000m and 10,000m champion has been banned from competing, along with 34 other athletes, for not attending a mandatory training camp. The Ethiopian Athletics Federation (EAF) said the ban would be lifted as soon as athletes reported for training.
Technical director Dube Jilo said: "We have to distinguish who is in good shape. There is a lack of commitment."
He added: "Our preparations haven't been up to standard so far."
The suspension could in theory prevent Bekele competing at the London Olympics, where the 29-year-old is expected to be a serious threat to Farah in either the 5,000m, 10,000m or both, though Bekele's agent said he expected the EAF would "back off".
The EAF summoned 200 athletes in November to a training camp in preparation for the World Indoor Championships in March and the London Olympics in July and August.
Bekele holds the world record and Olympic record in both the 5000 metres and 10,000 metres events.
He is the reigning Olympic champion in both events and also won the 2004 Olympic title over 10,000 metres.
However, Bekele and 34 other athletes, including Olympic women's 5,000m and 10,000m gold medallist Tirunesh Dibaba, ignored the call-up.
Bekele's agent Jos Hermens said: "The situation is a little bit crazy.
"I haven't talked to him yet today, but I know most of the athletes or the coaches have heard about it.
"My experience says that [the EAF] will back off.
"I assume there will be talks and this will be turned around, but at the moment we have to live with this."
Hermens thinks the EAF is reacting to Ethiopia's poor performance at the World Championships in 2011 where they finished ninth in the medal table with just one gold.
Bekele, who was making his comeback in Daegu after an 18-month injury lay-off, dropped out of the 10,000m after 10 laps.
He declared himself fully recovered prior to the Bupa Great Edinburgh Cross Country this month, but finished well down the field.
NFL Stars Reunite to Fight Effects of Drought & Famine in East Africa
Posted by Mamo Gebrehiwot
NFL Stars Reunite to Fight Effects of Drought & Famine in East Africa
Anquan Boldin and Larry Fitzgerald join Oxfam to raise awareness of ongoing crisis in Kenya, Ethiopia and Somalia
NFL superstar wide receivers Anquan Boldin and Larry Fitzgerald are teaming up once again on a mission to bring attention to the ongoing drought in East Africa.
Boldin and Fitzgerald call on football fans and others to support efforts to bring critically needed food and water to people in Ethiopia, Somalia and Kenya, and have released a public service announcement to raise awareness and funds for the region. The former teammates are both perennial Pro Bowl favorites and played together in Super Bowl XLIII. Both players are also well-known contributors to communities in need. They are exemplary role models on and off the field. This effort represents the first time the two stars have teamed up publicly to support a cause.
"This season the rains failed in many areas, causing the worst drought in 60 years," said Boldin, who joined the Baltimore Ravens in 2010 after seven seasons with the Arizona Cardinals. "More than three months after famine was declared in Somalia the disaster in East Africa continues and help is still desperately needed."
The July 2011 declaration of famine by the United Nations represented the official recognition of a disaster that is affecting more than 13 million people in Ethiopia, Kenya and Somalia. Despite brief rains falling in some areas, delivery of aid is still critical and in some cases made more difficult by the rains, which can make roads in many remote areas virtually impassable.
"In a region where life in many places depends on the ability of trucks to deliver water to remote areas, making sure aid gets there is more important now than ever," said Fitzgerald, now in his eighth season with the Cardinals. "Anquan and I are working together with Oxfam America to keep the crisis in the public eye and ensure that critical aid gets delivered to those who need it."
Oxfam, which has been working in the region for more than four decades, aims to reach more than three million people with aid and ongoing humanitarian development programs that protect communities' future on the land they've called home for hundreds of years. Together with partner organizations who live and are from the very areas they are working in, Oxfam is both delivering critical aid and creating new models of sustainable development to create lasting change in the region.
"The situation is dire but it's not hopeless," said Michael Delaney, director of humanitarian response for Oxfam America. "We're grateful for Mr. Boldin and Mr. Fitzgerald's support, and thankful for their commitment to such an important issue. Their involvement will only help ensure that the crisis in the Horn remains a global priority."
Oxfam America is an international relief and development organization that creates lasting solutions to poverty, hunger, and injustice. Together with individuals and local groups in 99 countries, Oxfam saves lives, helps people overcome poverty, and fights for social justice. Oxfam America is an affiliate of Oxfam. To join our efforts or learn more, go to http://www.oxfamamerica.org
Ethiopia's Kenenisa Bekele all set for London 2012 London Olympics
Posted by Mamo Gebrehiwot
The Olympic defending champion for the over 5,000 to 10,000 metres event, Kenenisa Bekele, has recently declared publically that he is completely prepared to defend his title at the upcoming London 2012 Olympic Games.
The declaration of the defending champion has put Mo Farah at unease who plans to take the gold medal for himself this time around at the international sporting event.
Bekele declared his intention to stay the Olympic champion for the next four years while he was addressing a conference in Edinburgh, "The last two years were a bad time for me because I was injured for such a long time. But now I'm getting better and I'm pain-free. I'm fitter than I was in 2011 and healthy. In 2012, I think I will have a good season. If I have a good result at the next Olympics it will be special. Nobody has won [the 10,000m] at three Olympics."
Before Bekele takes on the Olympics, he will make a show of his skills while taking part in the Bupa Great Edinburgh Cross Country event. The marathon race will give a good idea of the standing of the defending Olympic champion.
It has been long since Bekele was able to prove his mettle in the world of marathon racing. The first time that the Ethiopian athlete was able to come into the lime light was way back in 2004 when Bekele took part in the 10,000m race in the Athens Olympics. The Ethiopian was able to win the gold medal in the event.
The upcoming Olympic Games will present quite a challenge to Bekele who will be up against some of the best racers. The line-up includes Asbel Kiprop as well as Brimin Kipruto, both of whom are Kenyans. Kiprop is the Olympic champion for the 1500m race event while Kipruto has the honour of being the Olympic champion 3,000m race event. Apart from this, Eliud Kipchoge, who secured himself a silver medal when Bekele became champion, will also be taking part in the upcoming Olympic Games.
The Olympic Games are scheduled to commence from July 27, 2012